Copper River Lodge | Fly Fishing For Trout in Alaska
If you are considering fly fishing Alaska for trout then here are the reasons why you should fish with us.


The Copper River Lodge only takes 6 guests a week!

I do not know of any lodge in Alaska that has this capacity. You will know our crew more as friends than crew by the end of the week. This ensures that we will know your fishing goals, and abilities.

The Copper River Lodge is the only lodge on the world famous Copper River itself. You can walk right down to the river from our lodge and be fishing. While there are other lodges in the area, other lodges have to boat 5-15 minutes to get to the river, and it is impossible to fish in front of the lodge.

The Copper River is one of the best trout rivers in Alaska. It is a fly fishing only river. It is easily waded and crossed. Guests can spread out and fish every inch of the river.
Dry fly fishing!
The Copper River has some of the best dry fly fishing in Alaska in June and July. It is lower 48 style trout fishing for Alaska sized trout.
We also have amazing
Sockeye salmon fishing in July.
The Copper River rarely blows out.
Over 80% of the water coming down the Copper comes from a lake. Any river can blow out, if the Copper does blow out it recovers very quickly ( the river itself is only 22 miles long).
Our guides are the best our guests have fished with.
This is still the most common comment our guest's leave on our critiques. They are very knowledgeable, but not over confident. Our guide's know this river better than any other lodge. We fish it every day for 4 months every summer, and most of our guides have guided with us for years.
The Copper River Lodge holds the only permit to trespass and fish the Copper River.
This allows us to legally access the uplands of this river. At any other lodge chances are if you step on the grass you are trespassing. This also allows us to leave jet boats on the upper Copper and access water that very few people fish. We can also legally step on the bank and spot fish for you.
We rebuilt the lodge in 2014.
Guests now stay in private cabins with bath and shower, and their own deck looking over the river. Our lodge is also new with a great deck to have a drink, and watch the sunset.

We have a lake boat
to access other tributaries that flow into Lake Iliamna. Our favorite other river to fish is the Gibraltor river. We can reach the Gibraltor in about 40 minutes.
Fly outs are available!
We have an air taxi only 5 minutes away, and you can book these trips on short notice. We only charge you what the air taxi charges us. This fly out can be as little as $150 per person for the day! Also you will only pay for it if you use it, so on bad weather days (unflyable) you do not pay for anything. For more info on fly out costs please go to our rate page and scroll to the bottom.
If you can get an opening, you might just want to come back every year.
Over 90% of our clients are repeat clients or were referred to us by our clients and we book up every year.
We are happy to give a reference of guests that have fished the exact week you are considering.
Come see why we have had one of the best fly fishing for trout lodge's in Alaska for nearly 40 years!

2020 Review and 2021 Preview:
Joe Hyde, our on-site manager, has 15 plus years of experience and like the
Royal Coachman Lodge
we have the most experienced guide staff in the area. With the 2020 Covid season upon us the fish are enjoying the lack of fishing pressure , cool weather, and big salmon run. It should make for a fantastic for a great 2021. June and July as always provided great dry fly fishing. A large sockeye run in July which let to outstanding August and September fishing.
With such a long history, experienced crew and great fishing, we have many returning guests each year. Our small size, just 6 anglers per week, and an intimate setting insure that our guests receive the best service and Alaskan experience possible in the Iliamna region.
Call us or email us, and we can tell you why our lodge is one of the best in the business. But if you do not believe us, talk to one of our past clients, they are our best salesmen!
"Your lodge provided me and my son one of the best experiences of our lives, which we will never forget. Thanks."
Dick T.
Call to check availability!
Call - 888.294.0624 or email
info@copperriverlodge.com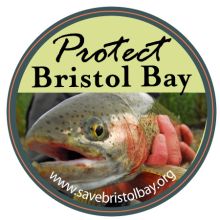 Help Preserve Bristol Bay and its Salmon!
Help us protect one of the last great salmon runs in the world by donating to Trout Unlimited's Sportsman's Match campaign. Right now until the end of the year, all of the donations are being matched by an anonymous donor and the Copper River Lodge.
►Trout Unlimited's efforts to stop the Pebble Mine.
Save Bristol Bay!
Email Pat at
pat@sweetwatertravel.com
to have your TU donation quadrupled!